5 Photo printing sites like Snapfish
Snapfish allows you to use your photos with a wide variety of items and turn them into great souvenirs such as photo books, prints, mugs, and much more. There is also a special occasion section, which is perfect for the holidays, celebrating a birthday, or the arrival of a new baby.
You love your dog, your cat or anything else, turn your most beautiful photos into a printed pillow head, a chain for your keys and a multitude of objects that will always keep you in touch with them. Ordering prints or a photo project is very simple: first, you will need to create an account if you don't already have one.
Then, you upload the photo you want to use for your project, then you just choose the project you want and add it to your card. Once you've placed your order, you can easily track it from the time it is delivered to your home. Don't forget to visit their promotion section where you can find many coupons and promotional discounts, which will make you save a lot of money.
If you don't have a photo, you can still choose from a large selection of personalized gifts, such as a diary, a mug, a blanket, a pillow, a towel, etc. Once you've chosen the item you want, simply choose the design or print you want and add a personal message if you wish. Snapfish offers a very easy to use interface and a very complete catalog of items. For even more choice and variety, check out the alternatives to Snapfish that we have discovered.
See Snapfish
My-Picture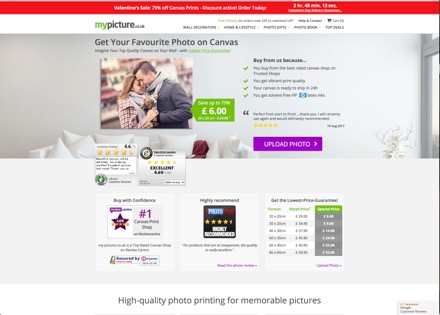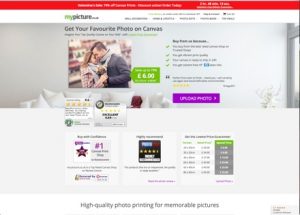 Official Website
For great value canvas prints, My-Picture is one of the best online photography websites. Your prints will be ready for delivery in just 24 hours and the quality offered will really satisfy you. Using only solvent-free HP latex inks, you can enjoy very clear photos and beautiful depth effects.
For your transactions, you can simply pay by credit card, PayPal, or Amazon payment, and if you go to register on their journal, you will receive discount coupons and be able to take advantage of several additional promotions. Very similar to Snapfish, you will find a page of the best promotions as well as several interesting printing options.
---
Canvas on Demand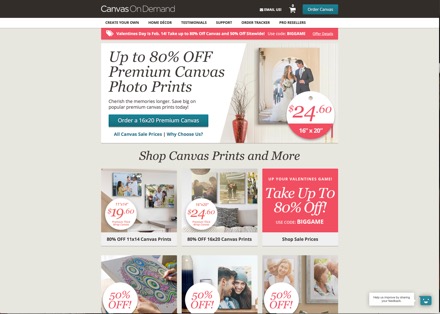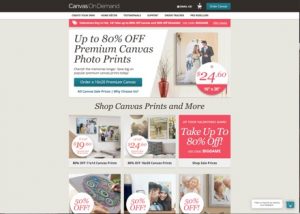 Official Website
Competitive prices and top quality canvases is what you'll find on this website. Over a million satisfied customers have purchased museum grade prints from this site, and satisfaction is guaranteed at 100 % or money back.
To transform your photos into a printed canvas, all you have to do is upload your photos, choose the size of the canvas you want and use the available options to resize them to your liking, all you have to do is make the payment. A few days later, your canvas will be shipped directly to your door and will be ready to be installed on your wall.
---
AdoramaPix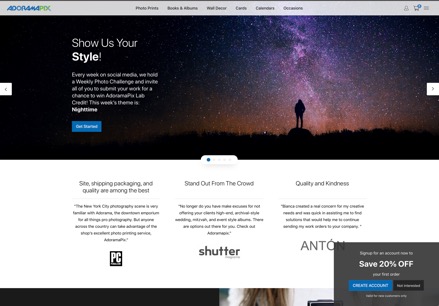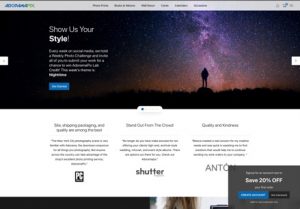 Official Website
If you want to create a photo album that you will never get tired of looking at, then you need to check out this website like Snapfish. There are several templates and styles available to you. Very easy to use, you will be able to choose the size, the type of paper, the top of your photo album and change your photos into greeting cards and more.
Perfect for any occasion, or for wall decorations in metal, with framing or in wood printing. If you are a new customer, go ahead and create an account, and then you can take advantage of exclusive specials on your first purchase. AdoramaPix has been offering exceptional customer service for over a decade at very affordable prices.
---
Shutterfly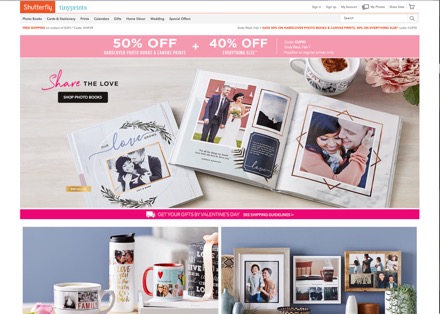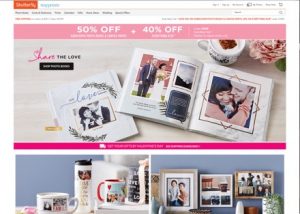 Official Website
This alternative to Snapfish even offers a professional designer to help you create the perfect photo album for you. And you'll only pay a small fee if you purchase the album once it's finished. If you want to create your album yourself, you can easily set up your album with more than 40 predefined layouts, and the album can hold up to 1000 photos.
Like other sites like Snapfish, your photos can also be printed on various objects such as calendars, iPhone cases, Masson jars and more.
---
PhotoBox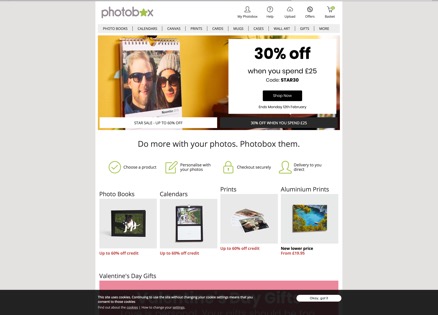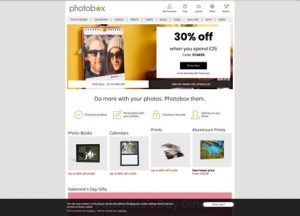 Official Website
PhotoBox will bring your photos to life. For a photo album, there is an incredible choice of colors and size styles to choose from. Or you can choose to turn a photo into a wall masterpiece or onto personalized items such as mugs, mini magnets and more.
You just have to choose the product, customize it with your image, pay securely and wait to receive your product. Similar to other places like Snapfish, PhotoBox will always offer you good promotions and gift coupons.