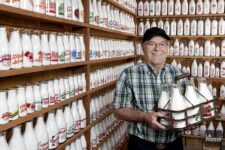 Between passion and obsession: Who are collectors?
Collectors come in all shapes and sizes, from all walks of life, and feed a phenomenon that has existed for ages all over the world. Some collect cards, others yoghurt pots, there are no limits to the practice of accumulating objects of the same category. This phenomenon has its origins in the unconscious mind of the person who, in order to keep moments of happiness in mind, will concretize in material form all the symbolism that emanates from this desire.
The principles of a true collection
From copoclephile to philatelists, numismatists and many others, we often collect everyday objects, such as stamps, coins in various currencies, postcards, bookmarks, autographs, books or pictures... often linked to a theme we like.
But whatever the chosen collection, the objective becomes the same for all collectors: find the first items, talk about them around you to collect others, or even make exchanges if you have someone in your circle who shares the same passion.
Over time, once the "common" elements that can be found more easily everywhere have been recovered, it's time to complete the collection with other rarer or different items. Many collectors do their research on the Internet or with second-hand dealers, for example, depending on the items. The aim is to feed this passion without breaking the bank.
The other leitmotiv of a collector is naturally to take care of his collection. If objects are left lying around without care, they risk gathering dust or even becoming damaged. So you need to find a way to store them. A binder, for example, can do the trick for a collector of pictures, stamps or postcards. Similarly, for a numismatistregular cleaning of parts is essential.
Good to know Collecting: in psychology, a collector is considered to be driven by the desire to hold on to objects or other items that recall either a happy moment, a context or even a person. In some cases, this can even reach an extreme when collecting becomes an obsession. 
Once upon a time... Paninimania
We can't talk about collections without mentioning one of the leading players in this field: Panini. If the name evokes childhood memories for many, it's no coincidence. Established in 1974, Panini has offered numerous collections of cards and images in the form of stickers in different universes, from film and manga heroes such as Dragon Ball and Harry Potter, to soccer stars.
Besides, the death of Bruno Bolchi, Panini's first vignette starreminds us that the Inter Milan footballer of the 60s was the first professional player to have an image in his likeness. Panini albums have come a long way since then, with a new album released for each World Cup, with the aim of collecting cards for all the players in each team.
Good to know Panini has announced the launch of brand new collections: Super MarioFortnite and Minecraft. For Super Mario, this means no fewer than 252 cards, including 8 limited edition cards and 72 special cards.
When collection rhymes with passion and reason
As you can see, managing a collection is no easy task. Passion must coexist with reason and other criteria to be taken into account, starting with the budget.
Yes, the budget is a fundamental point. When you're passionate about something, you tend not to calculate anything and act on impulse. However, in the long run, unless you have an unlimited budget, the cost of this passion can sometimes take on proportions that are too great. That's why it's a good idea to set a budget. What's more, this precaution will help you avoid making ill-considered and often unnecessary purchases.
Another essential point for a beautiful collection is to start by taking stock and take your time. Yes, public enemy No. 1 of the enthusiast is not always listening to one's impulses and taking one's time. And yet, it's a fundamental part of being a collector. Of course, you can indulge your cravings and indulge yourself, but for the sake of your budget and the right purchases, start by asking yourself the right questions. Which type of collection are you looking for? Is it for pleasure? Conservation? A specialization? Have you researched the theme of this collection? Have you mastered it? All these questions will help you to better manage your passion. And don't forget to take out a small notebook to record all your acquisitions right from the start.