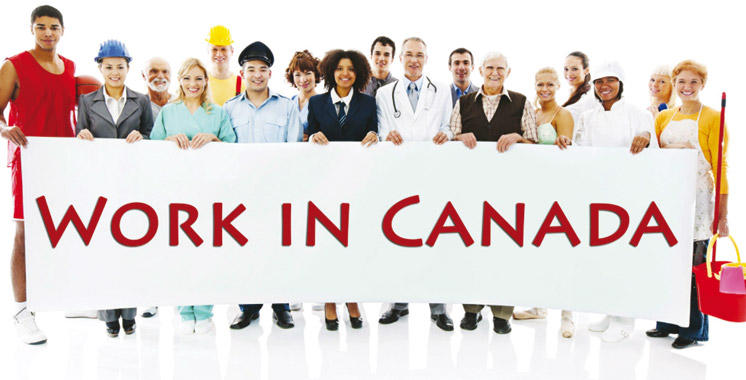 The best job search sites in Quebec
Finding a job in Quebec, like anywhere else, is not always easy. However, being well prepared before starting the search will bring positive results, and this with much more ease.
We need to know our strengths and highlight them. The CV and letters of recommendation are important tools in our job search. Another very important element not to be neglected will be to find a work environment that will suit us whether it is the distance to travel to work, the work schedule or simply the tasks to be accomplished.
Well, now that everything is in place, we need to find that famous job that will make our life easier. Job search sites are very effective tools to achieve the desired result. Here is a list of the best sites to find a job.
Jobboom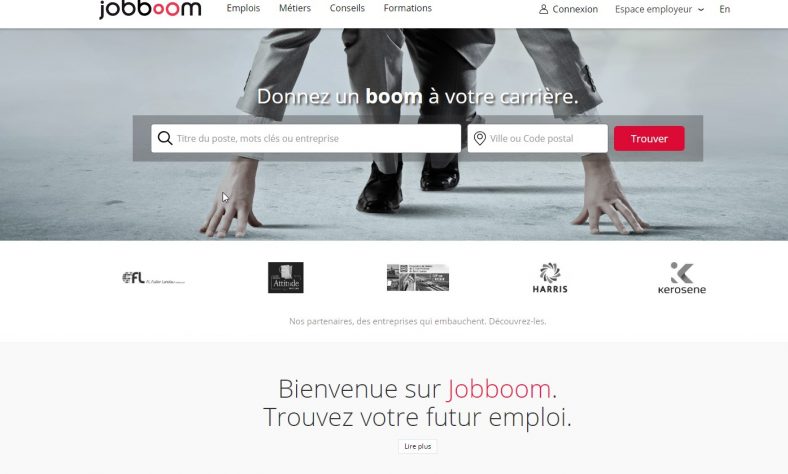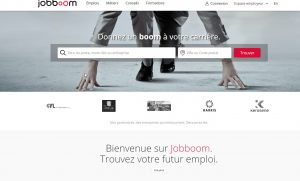 Official Website
Among the best job search sites, Jobboom is without a doubt a must. Register easily and for free.
After creating your job profile, you will not only have access to a recruitment platform, but also to more than 2000 quality articles that will help you in your job search.
Another point that should not be overlooked is that Jobboom is used as a platform by several training centers, schools and specialized institutions.
So be sure that Jobboom will give you all the tools you need to maximize your chances of success. With jobboom.com, your vacations will never have been so short.
---
Job offers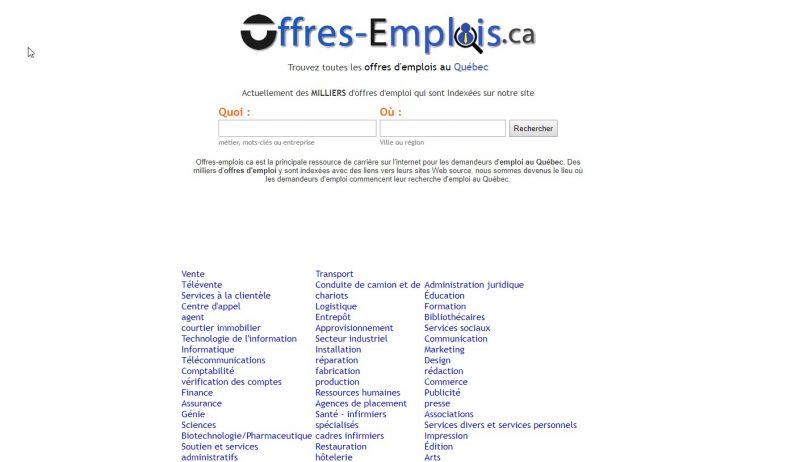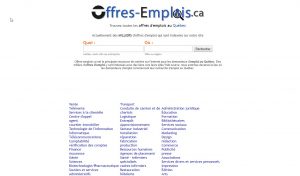 Official Website
Nothing could be easier with www.offres-emplois.ca, both for the job seeker and the employer. Simply enter the type of work you want in a box and the region where you want to work and the search is done in the blink of an eye. With thousands of users this free site is in effect since 2010 and will surely help you find a job in Quebec.
---
Jobmire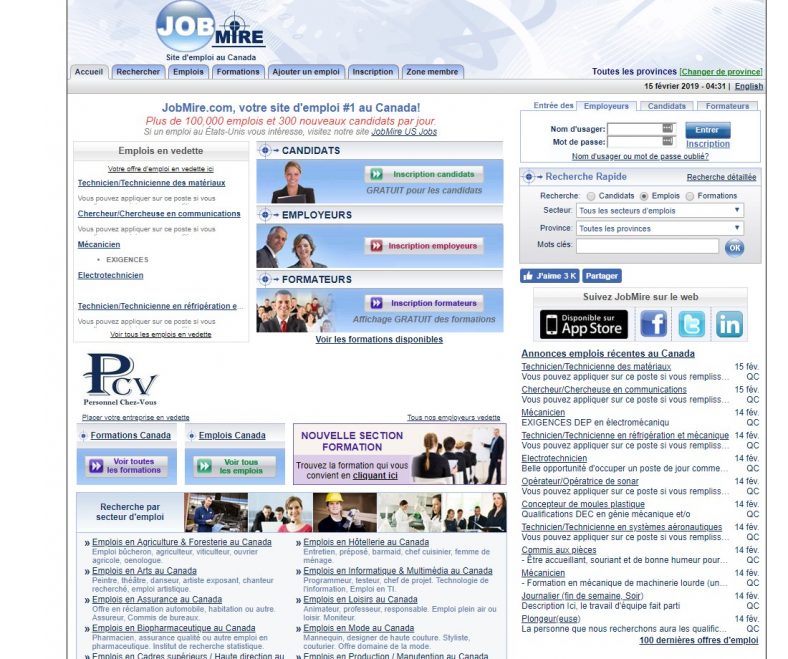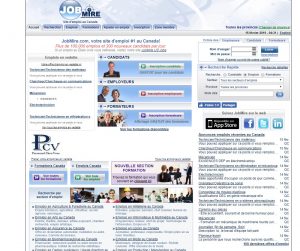 Official Website
jobmire.com is a job search site that also deserves our attention,
This site allows employers to post their job openings for free. So, lots of potential. Also jobmire.com covers all Canadian provinces, so who knows where you'll end up soon.
---
Ziprecruiter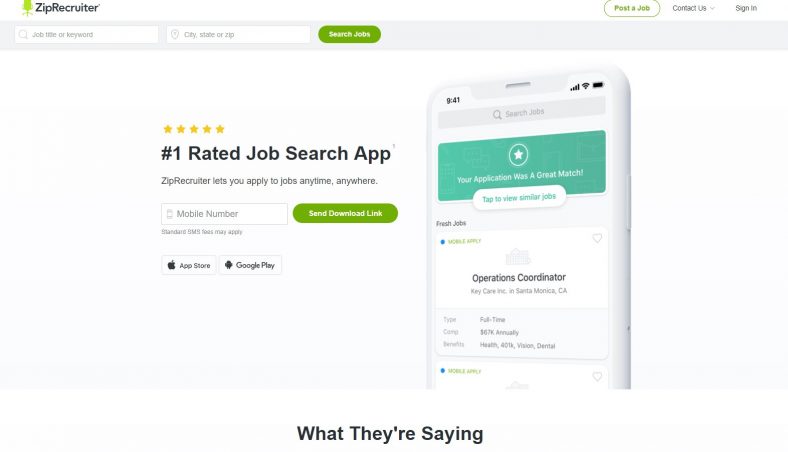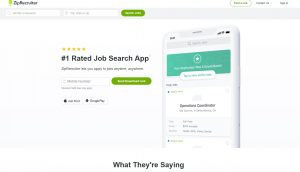 Official Website
ziprecruiter.com is one of the largest job search sites in North America. Free and easy to access, ziprecruiter.com analyzes the algorithms of several million jobs and redirects jobs according to the queries you request. Unilingual English, but very powerful.
---
My Virtual CV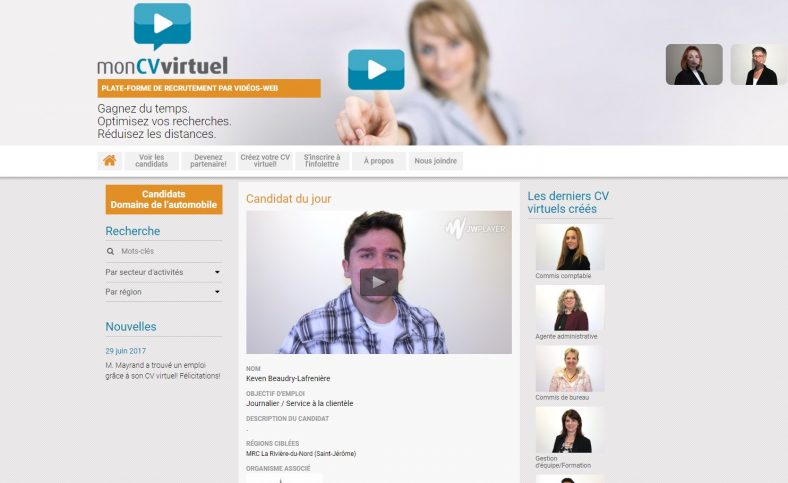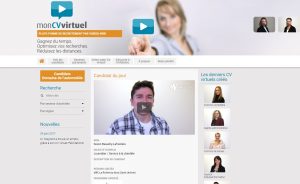 Official Website
Create your own virtual resume that meets their criteria or let the moncvvirtuel.com team come to your home. Fees apply for both options. This short one and a half minute video can be seen by thousands of employers and maximize the chances of making a good impression.